WHAT IS PWRLITE®?
3D printed goalkeeper glove technology.
The Science - A malleable and flexible fluid that reacts on impact
PWRLITE® Is the worlds leading Goalkeeper glove 3D Printed Technology.
WHAT DOES IT DO ?
On Impact - PWRLITE® changes to a solid state, absorbing the impact energy and reducing transmission of force
AFTER IMPACT
The material returns to a flexible state, back to its original shape
SHOKLOCK® Finger Protection
Removable, lightweight yet highly robust finger spines. Offering the best level of security against hyper extention to fingers.
HI>DRI®
ELIMINATES ODOUR & BACTERIA - hi>dri anti bacterial lining helps prevent the growth of bacteria within gloves which multiply in the presence of dirt, moisture and heat - causing infections, odour and allergies.​​ Soft and lightweight, hi>dri offers greater comfort while retaining less water due to its hydrophobic properties
TOUCHFEEL®
Developed to enhance the goalkeeper's touch-feel and control. Specially formulated heat impression gel injected within the glove palm - moulds with hand heat to not only provide goalkeepers with a unique feel, but offer added hand stabilization and grip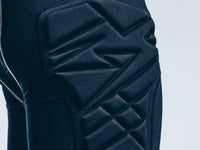 SHOKAER® IMPACT PROTECTION
Comfortable, flexible, and lightweight, SHOKAER® allows for soft, non-restrictive protection and cushioning while still absorbing more energy on impact
SHOKAER® PROTECTION RANGE